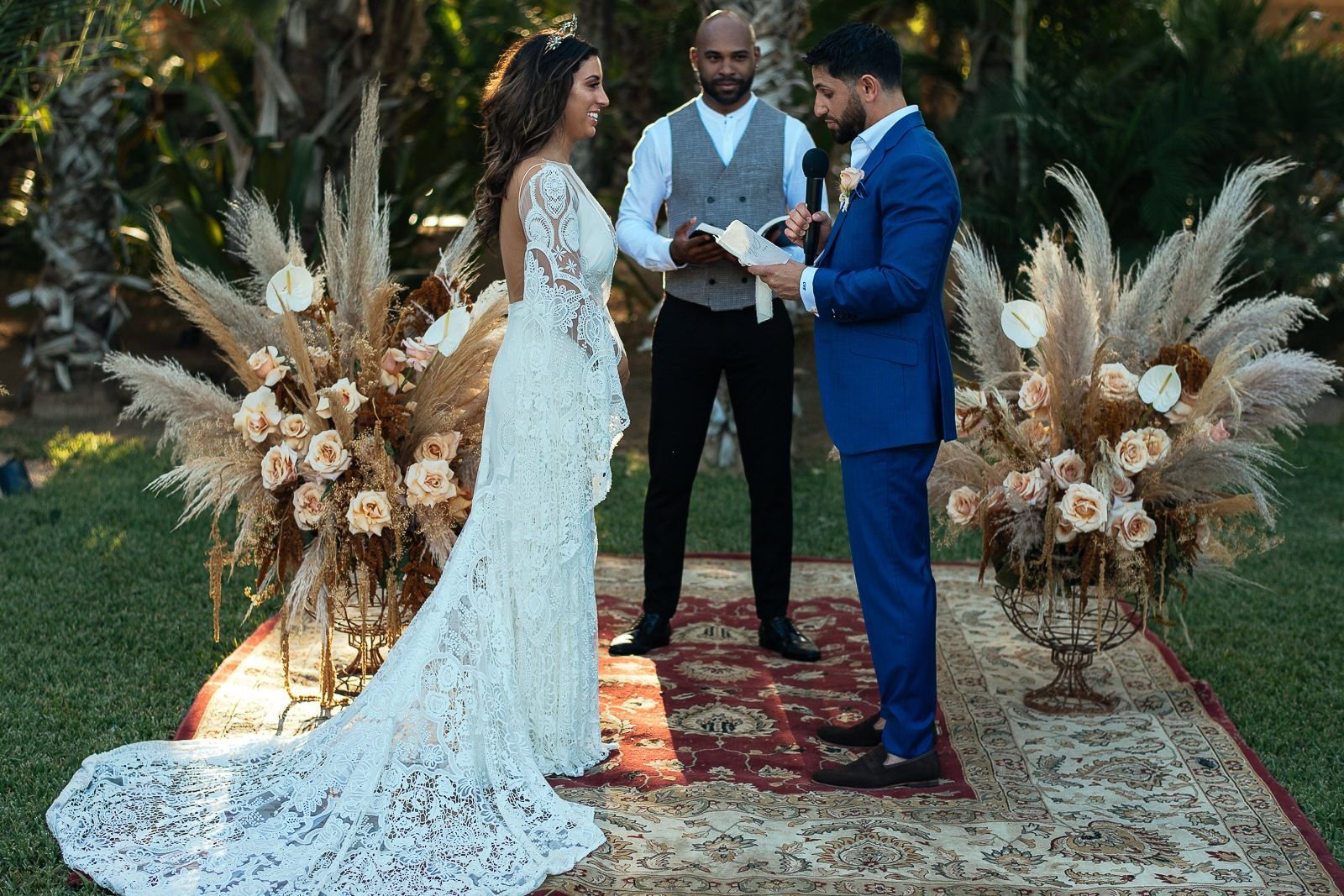 When we first spoke with Christie, we knew this was one wedding we simply had to have on the books. Let's face it, who does on-trend, bohemian whimsy better than a New Jersey fashion blogger? Together for forever couple (8 years and counting!) Christie and Christian are a real-life version of your favorite Rom-Com couple, and it was clear from the get-go that this groom was happy to let his leading lady take point. Along with a team of Cabo's best creative geniuses, Christie and I worked side by side to plan her October celebration down to the smallest detail, and I think we outdid ourselves!
We would be amiss to blog about a fashion blogger without getting down and dirty with the genius decisions that went into shaping her fashion-forward bridal look. Enter Bri Berliner, one of Cabo's premier hair and makeup experts specializing in all things bridal. Bri and her team kicked off the preparations in Christie's stunning suite at the weekend's host resort Paradisus Los Cabos. Christie chose loose beach waves in a half up half down creation, polished off with a sparkling tiara that was boho beautiful and Strictly Ballroom all wrapped up in one little package. Bri chose to accent our bride's gorgeous olive skin with defined contouring and that sough-after Kim Kardashian glow. But it was when Christie donned her stunning gown that our jaws dropped. Featuring asymmetrical cutouts, a high neck overlay and lace, lace, lace, the trendy creation put a fashion-forward spin on traditional bridal, and we can't get enough of it!
The much loved and very wedding savvy Acre Baja was the site of our festivities. Christie and Christian hosted a simple ceremony on the restaurant's grass patio, saying their I dos on a vintage style Persian rug adorned with funky, modern arrangements in neutral, pared-back tones. Friends and family watched on starry-eyed as the newlyweds shared their first kiss and the celebratory cigars made their first appearance. As photographer Dennis Berti whisked our couple away to capture Cabo's famous sunset portraits in his trademark style, guests were wined and dined poolside for an hour of cocktails and conversation. But this party was just getting started.
Christie is stylish with a capital S, and what self-respecting fashion expert would opt not to change dresses at least once during their nuptials. When Christie and Christian made their reception entrance in Acre's Mango Orchard, our bride had undergone a complete change of look. Pulling her hair back from her face and replacing her diamond tiara with jewel-encrusted adornments, Christie swapped her ceremony gown for a racy champagne bodysuit and a sparkling organza overlay, which we are sure will make her thousands of followers drool with envy. Along with their nearest and dearest, they dined at wooden imperial tables decorated with an abundance of textured fabrics, natural foliage, and pale blossoms, an adorable aesthetic put together by the team at Let it Be. They were here to party, and that they did, as DJ Ricardo Patiño upped the volume for an evening of fruity cocktails, fabulous conversation and dance moves to rival the best.
Congratulations Christie and Christian! We hope you enjoyed your moment in the spotlight just as much as we did.
Until next time,
Jessica + Tammy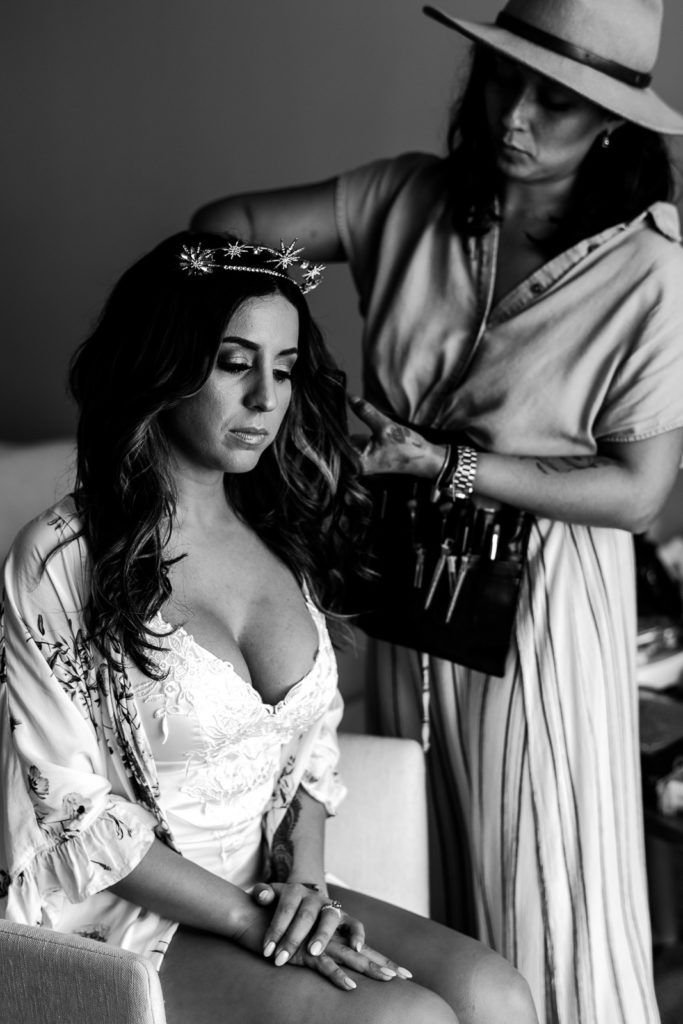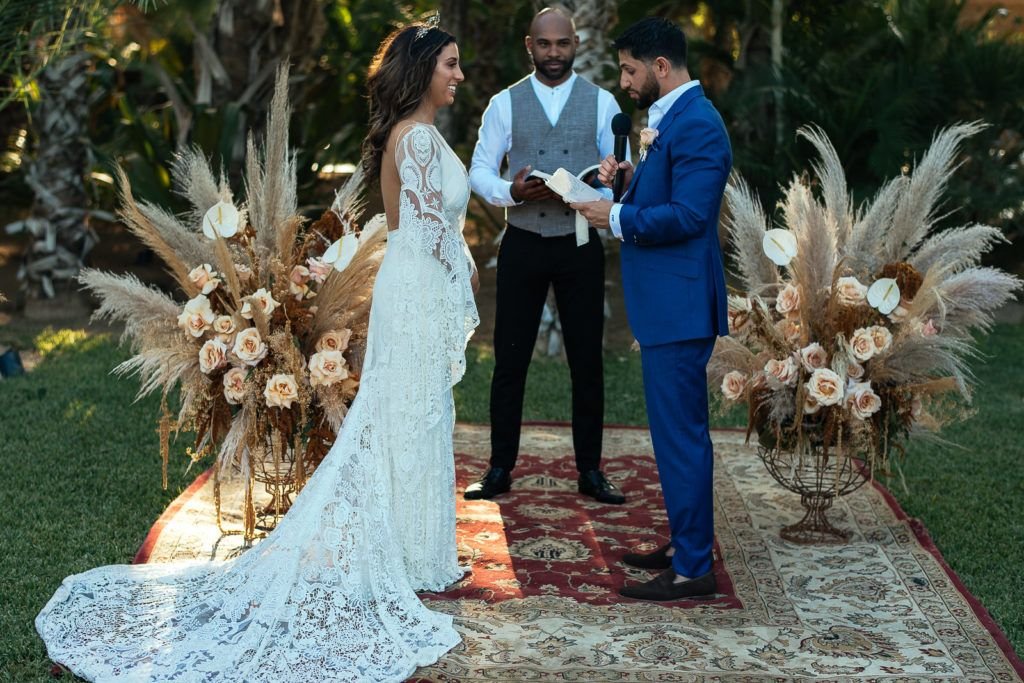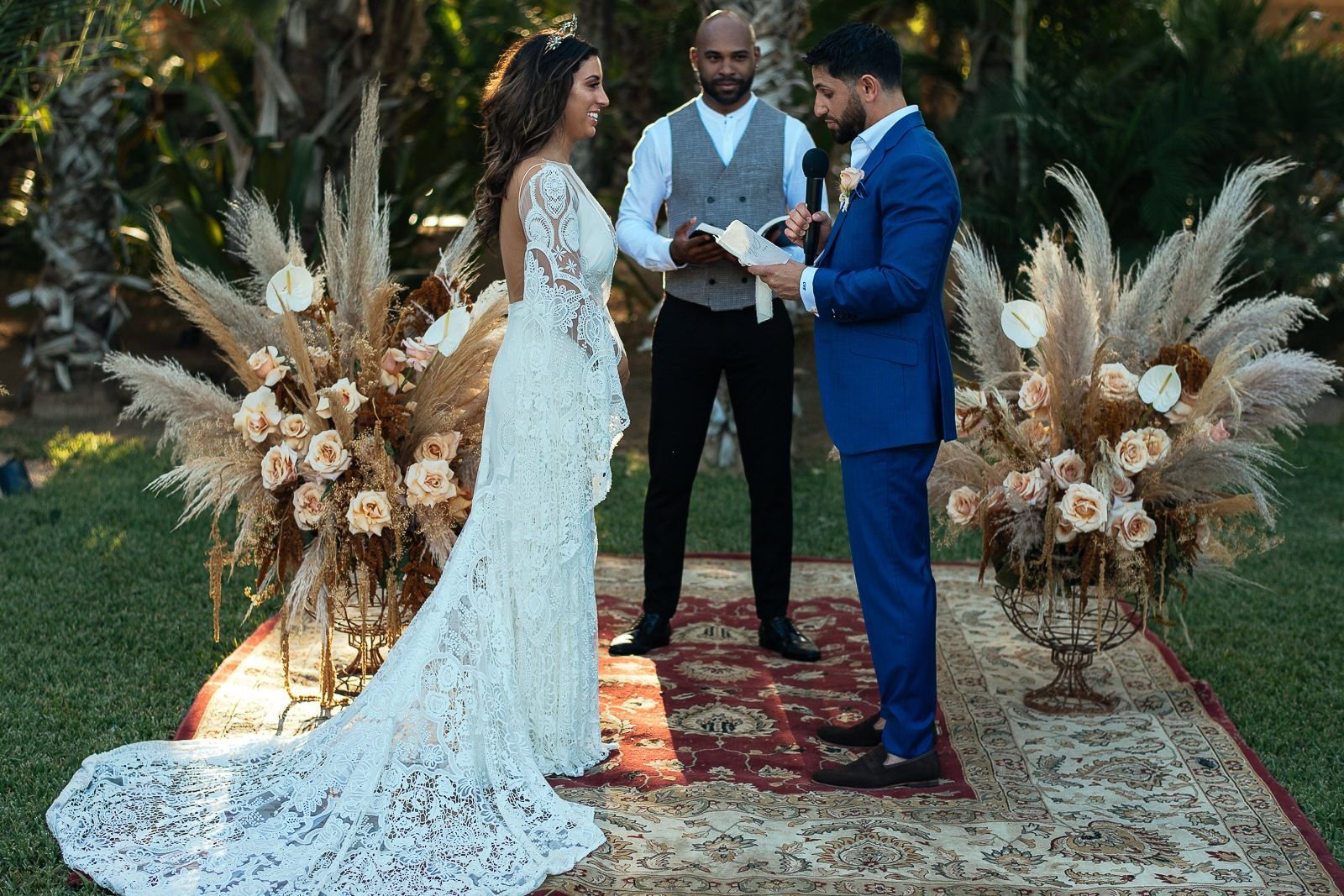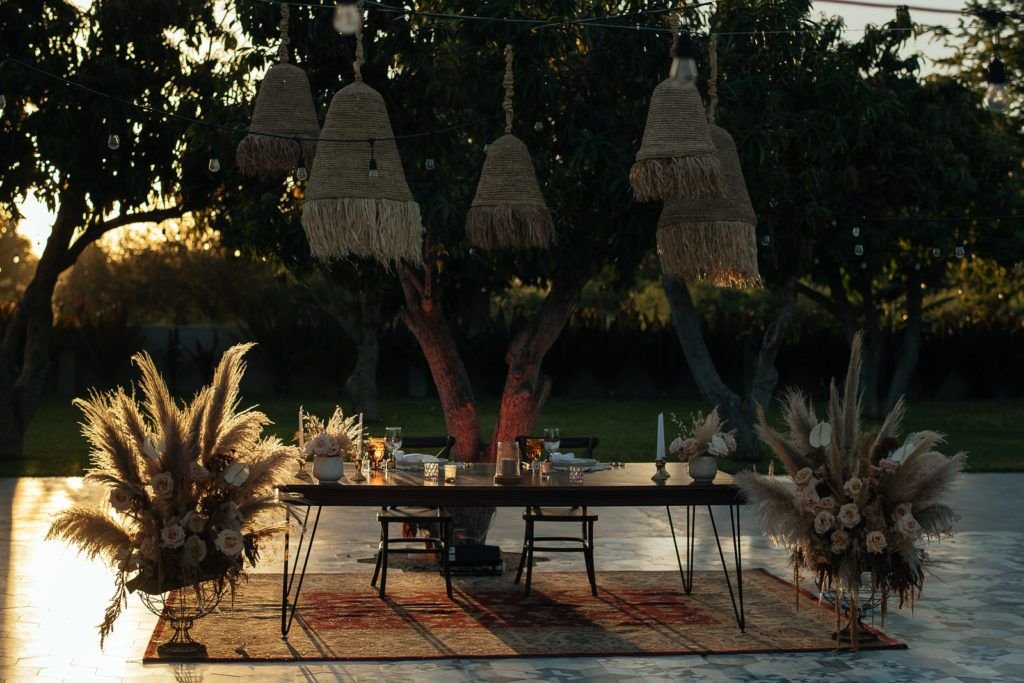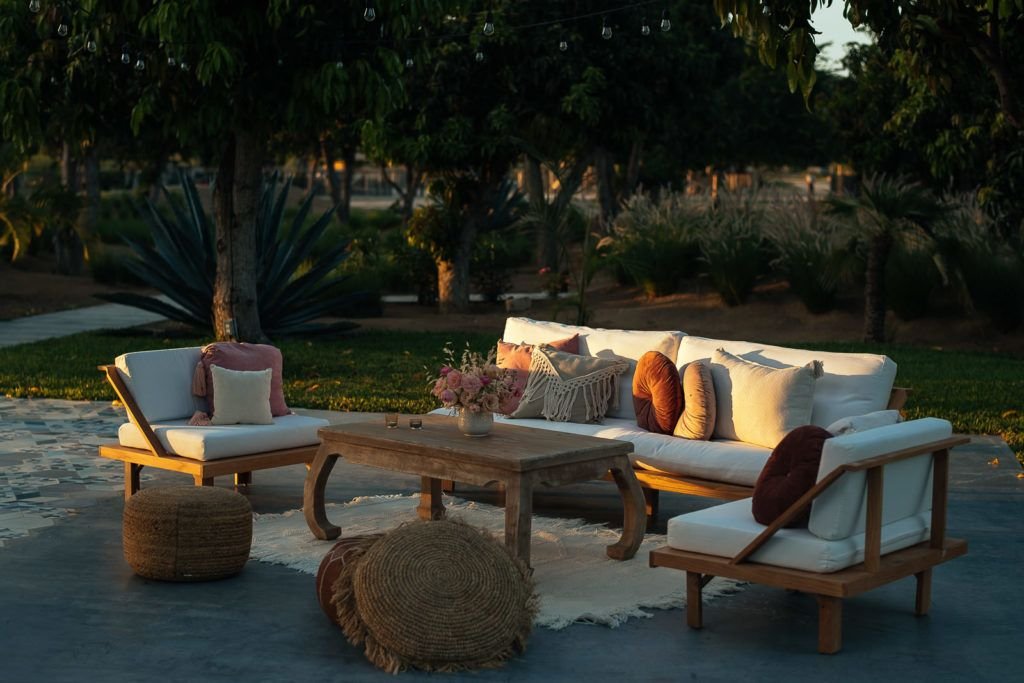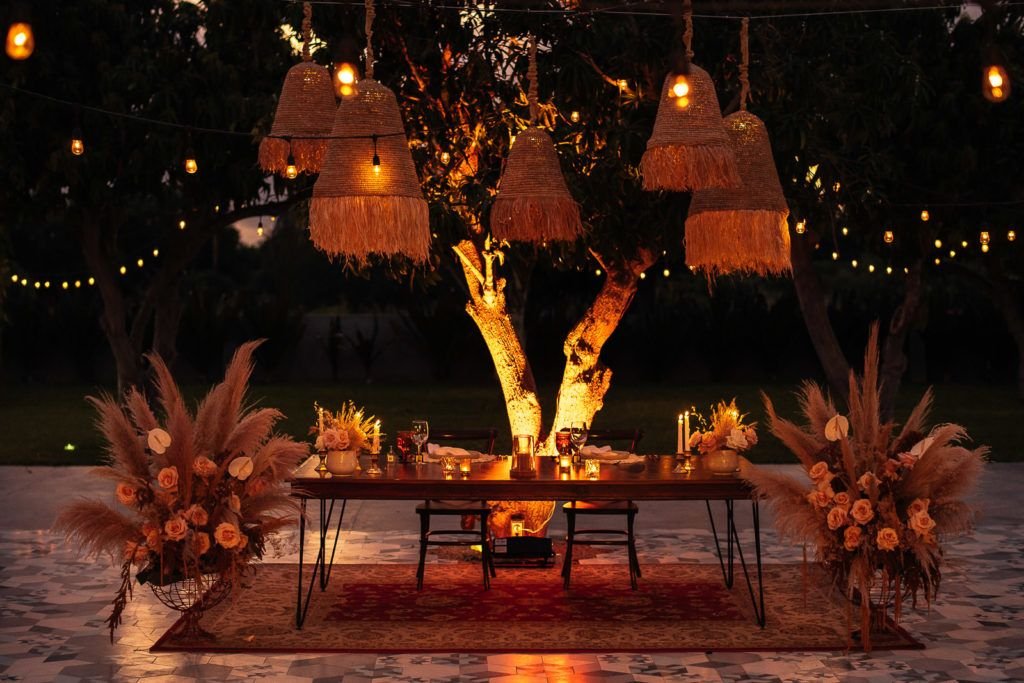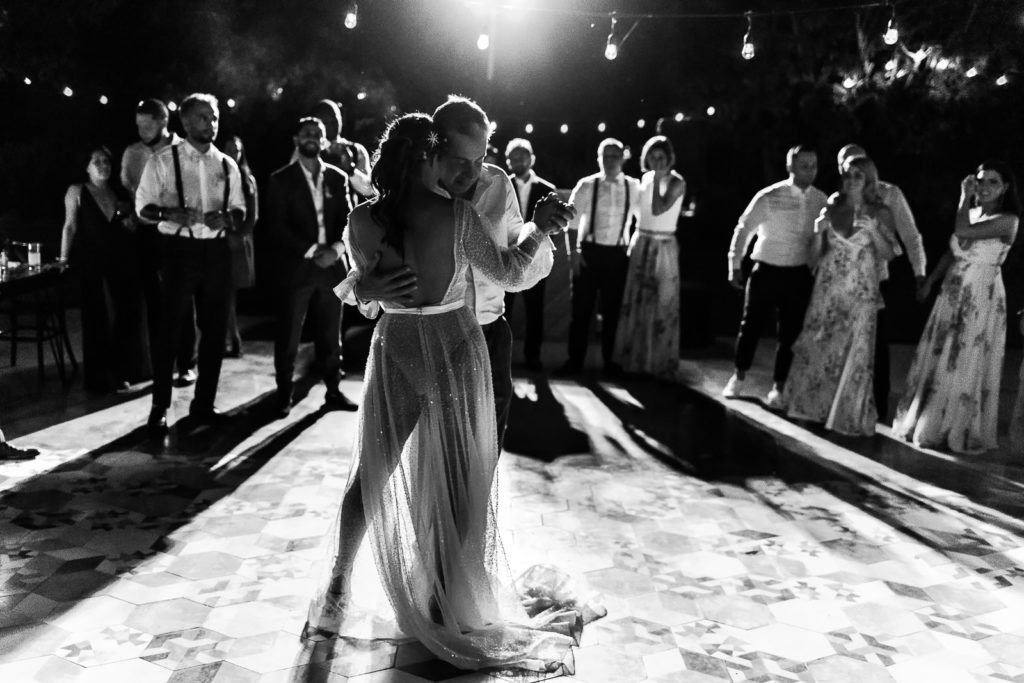 0