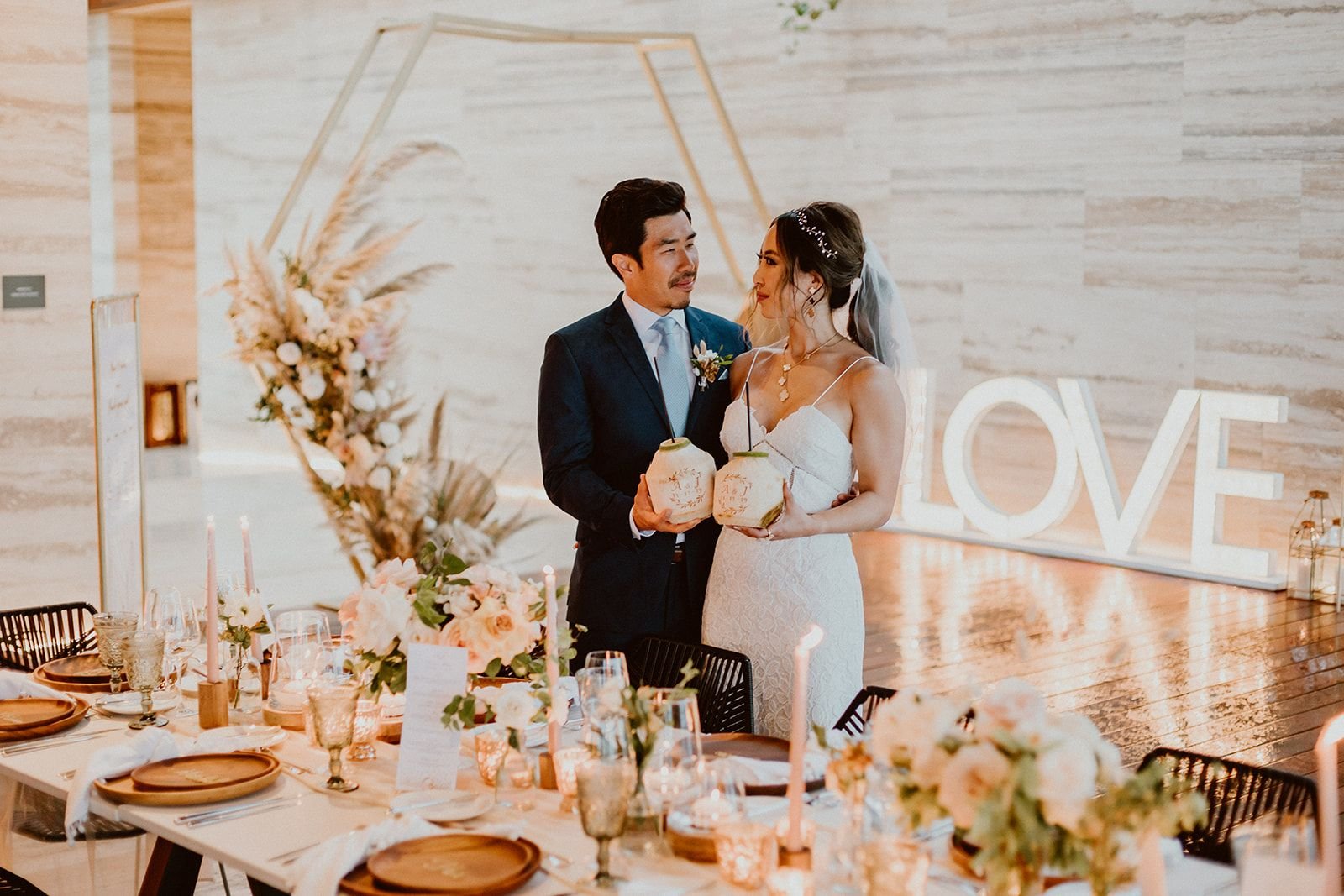 The word "fairytale" is plastered all over our favorite wedding blogs, Instagram feeds and glossy magazines, and is fast becoming a cliche. But Alexa and Justin's November wedding extravaganza at the luxurious Solaz gave new meaning to the term, a showstopping celebration that was every little girl's fantasy fairytale and more. With a modern, boho desert vibe, dramatic twists (hello rain!) and careful attention to detail, this corporate couple threw tradition to the wind and reinvented the storybooks. Read on for our highlight reel.
Dr. Alexa and her financial advisor beau Justin make one good looking couple, and as pre-ceremony preparations kicked off it was clear that all things wedding attire had been carefully considered. Alexis called upon one of our favorite stylists, Bri Berliner, to help piece together her look, opting for an elegant ponytail with face-framing waves and perfectly contoured makeup. Her gown was gorgeous with a capital G, featuring spaghetti straps, an empire waist bodice and lace skirt, and her diamond headpiece, ethereal veil, and strappy nude sandals put the finishing touches on perfection. Alexa's girls backed up their bestie in white, Grecian gown inspired by our barely-there, nude palette. Across the pond, Justin looked dapper in a navy suit with a baby blue tie and tan accessories.
As we turned the page on pre-ceremony preparations the excitement was buzzing, but the overcast Cabo horizon was proving a potentially disruptive plot twist. As any wedding planner worth their salt can attest to, a well thought out plan B is a must! As the first raindrops fell on our outdoor ceremony terrace, our team banded together to transfer Alexa's dreamy set up undercover in record time. Featuring a geometric, hexagonal arch teaming with natural foliage in neutral, desert-inspired tones, iron benches, an abundance of lanterns and candlelight, the effect was fresh and fabulous. After a heartfelt exchange of vows led by Rev. Marco Arechiga, our couple shared their first kiss, and just like that the skies began to clear.
Alexa made a quick dress change as guests sipped on fresh coconut water in personalized shells, emerging from her suite in a fun, flirty and oh so frilly champagne number and wowing her groom once again. The uber-talented husband and wife photography team Ana and Jerome were quick to jump to, stealing the happy couple away for a few private moments and capturing those romantic sunset portraits we just love to love. Back at the restaurant, wait staff seated guests at imperial tables brimming with pastel blossoms, tapered candles, and golden accents. Alexa and Justin made a grand entrance to the cheers of family and friends before sharing an intimate first dance, followed by an award-winning meal of premium cuts and fresh seafood served by Solaz's ever attentive banquet staff. The list of successes is endless, and we could go on forever, but we won't. Suffice to say, these images of Justin and his boy's surprise Chippendale dance and our packed dance floor say it all!
A special thank you to Let it Be for cover-worthy florals and decor throughout. Alexa's whimsical bouquet of whispy florals, funky foliage, and feature Protea will go down as one of our all-time favorites. Last but not least, thank you to our bride's superstar mother Sharyl, who was with us every step of the way.
Until next time,
Tammy + Jessica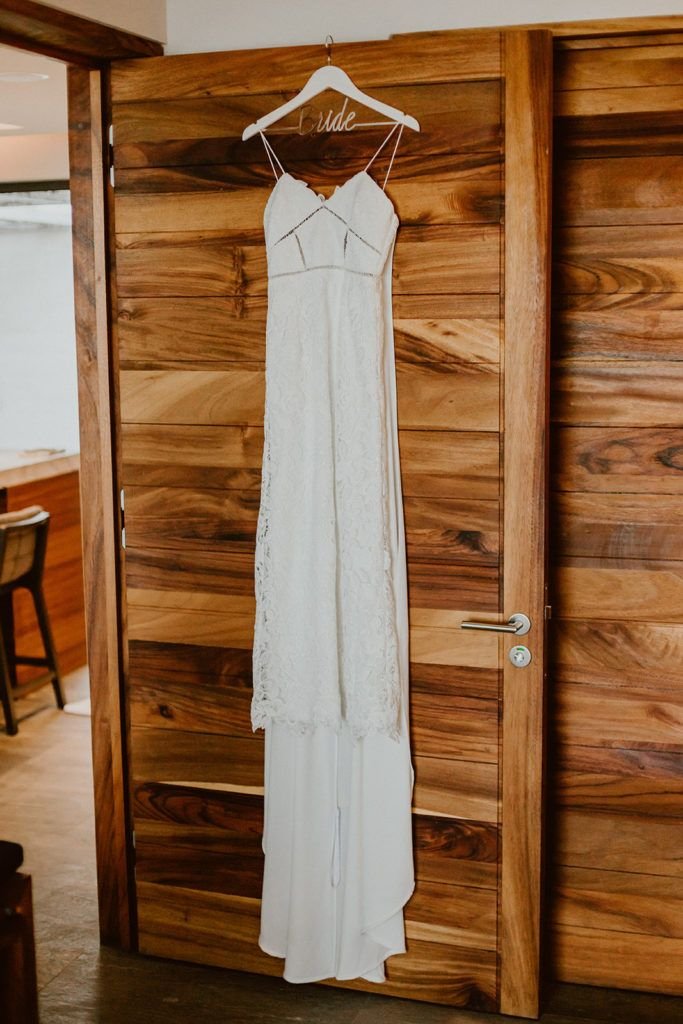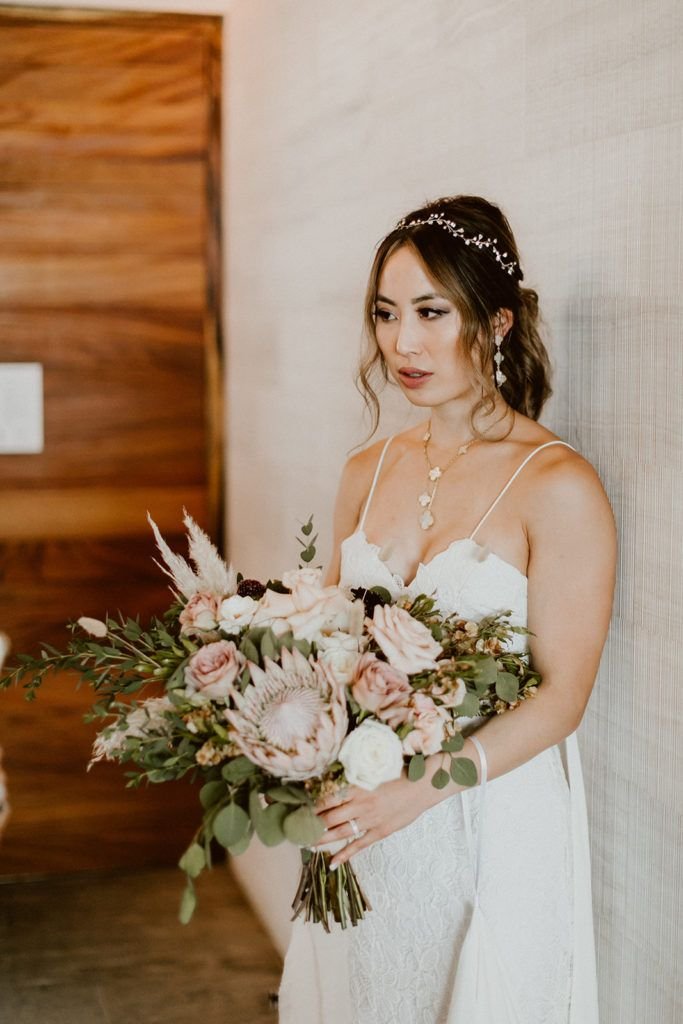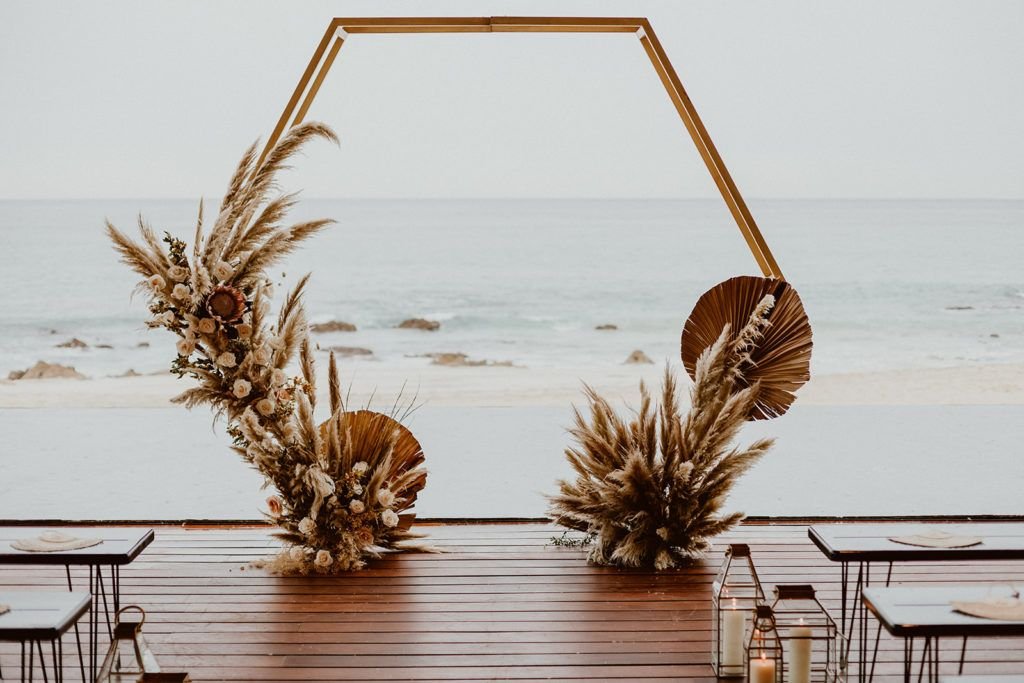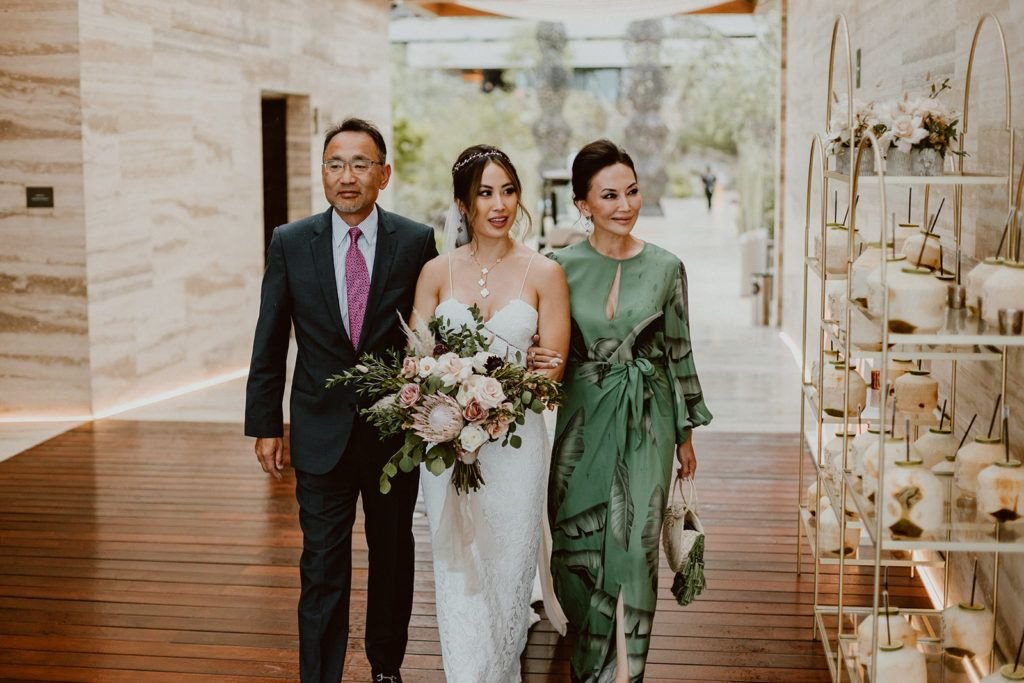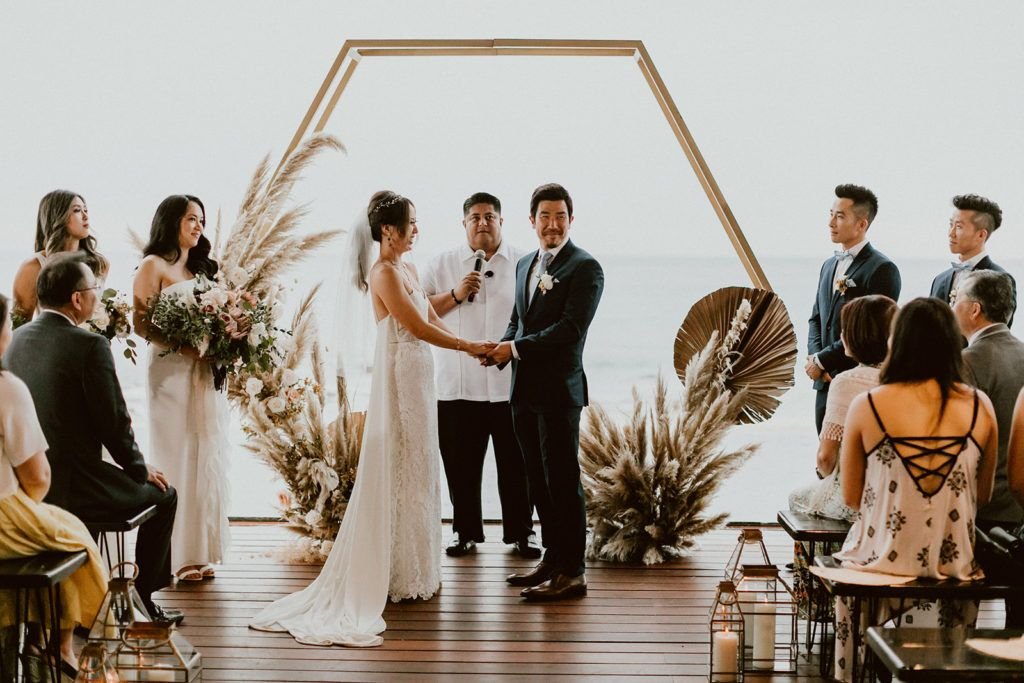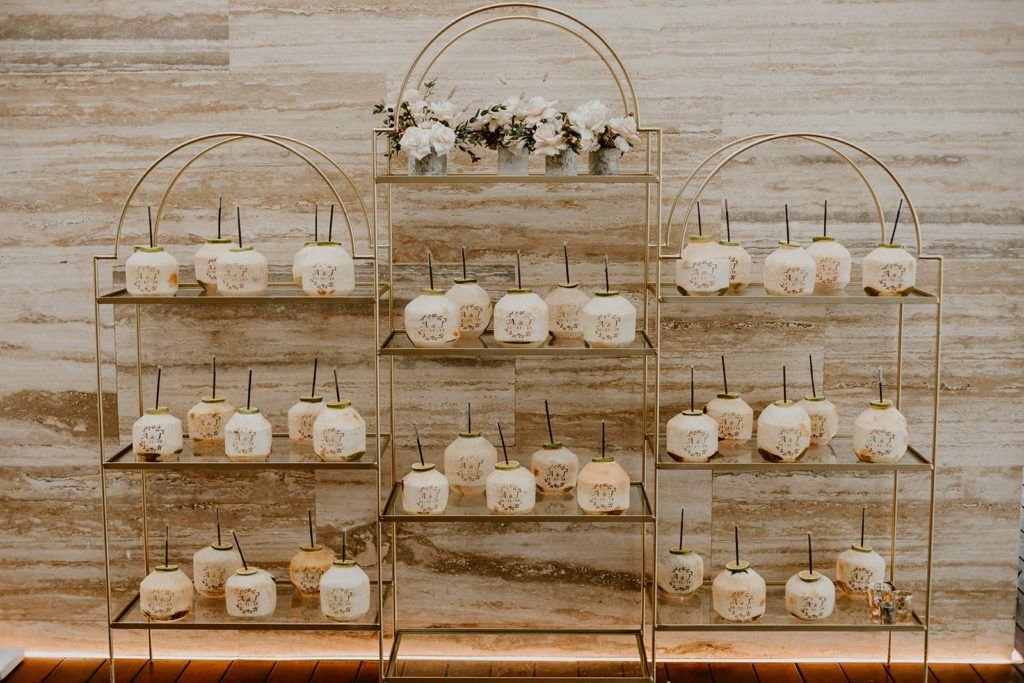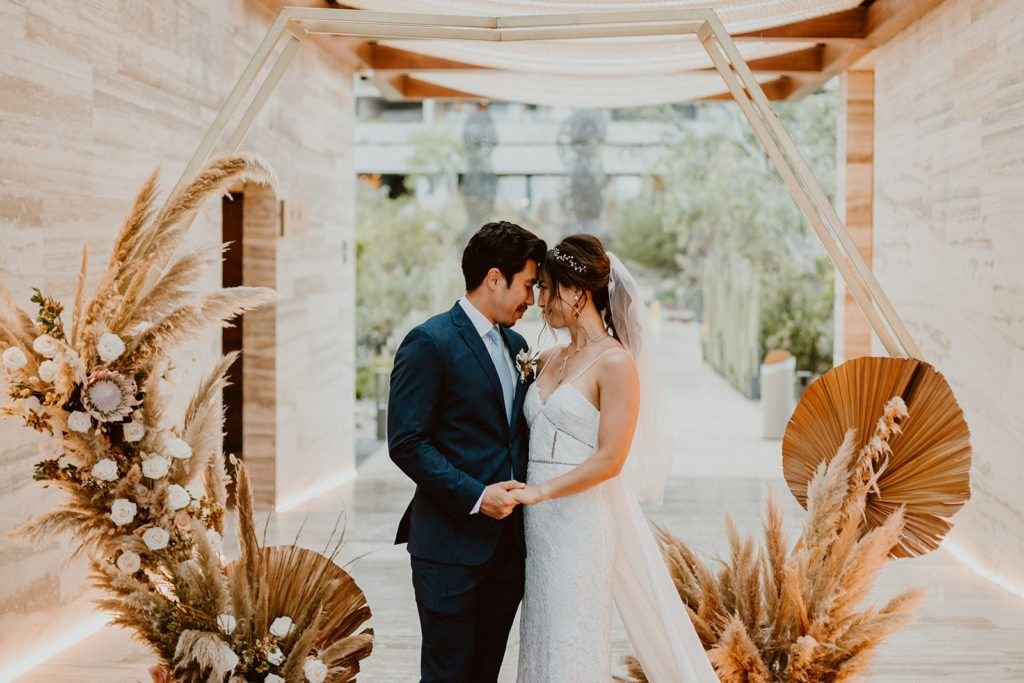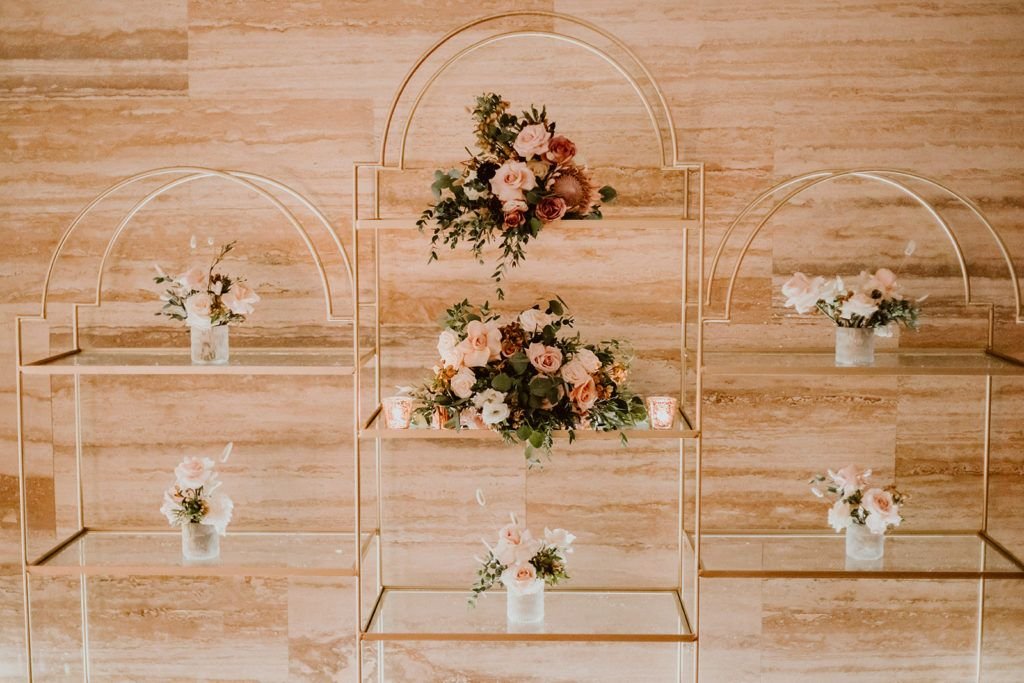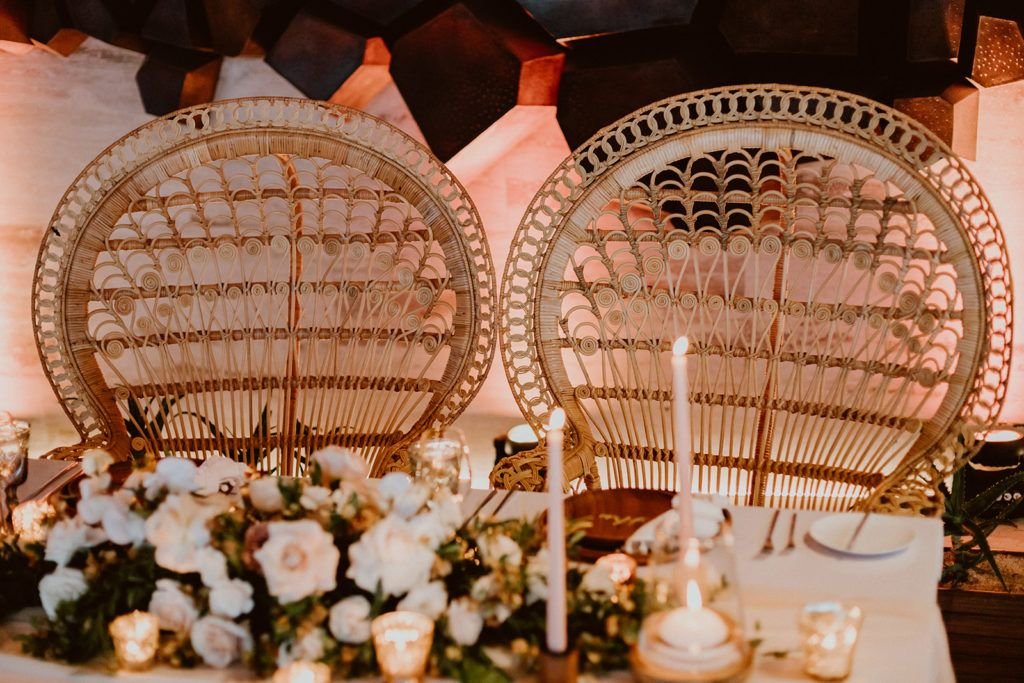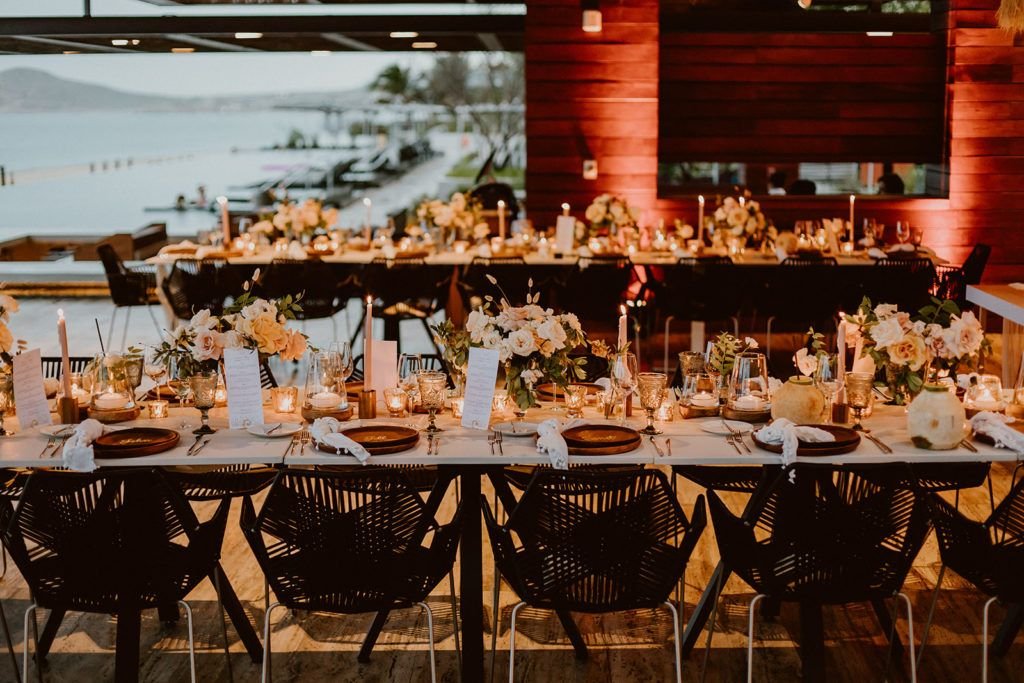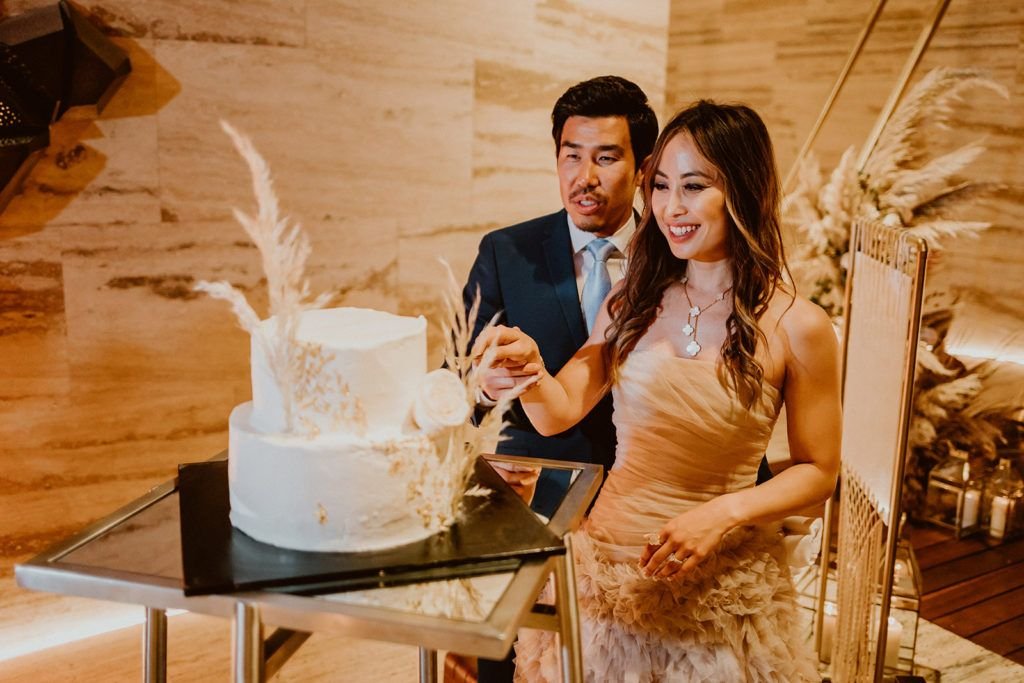 2